Administration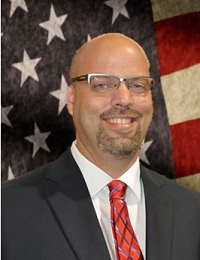 Chief Jason Hawkins began his law enforcement career with the Iva Police Department in 2001 as a reserve officer. In 2002, Chief Hawkins began to work as a full time patrolman. He attended and graduated from the South Carolina Criminal Justice Academy. He achieved the rank of Lieutenant in 2006 and Captain in 2013. Throughout his years at the Iva Police Department, Chief Hawkins has served in the patrol division, served as a supervisor, and has assisted in acquiring several grants to help upgrade equipment within the department.
In July of 2014, Captain Hawkins was named to serve as Interim Chief of the Police Department. In October of 2014, Interim Chief Hawkins was named as the full time Chief of Police for the Town of Iva and Iva Police Department. Shortly after becoming Chief, the 10th Circuit Law Enforcement Network named him as the Assisted LEN Coordinator for the 10th Circuit, where he continues to serve.
Since becoming Chief in 2014, Chief Hawkins has helped to add additional officers to the School Resource Officer Program, aquired the equipment to implement a Special Response Team, and has also aquired several patrol vehicles to update the fleet of the Iva Police Department. Chief Hawkins has also helped to update much of the equipment used by the officers on a day-to-day basis.
Chief Hawkins strives to to lead the Iva Police Department with devotion to the foundation on which the Iva Police Department was built.
Contact Info
Jason Hawkins
Chief of Police
204 East Jackson Street
864-348-6192
Email