Water Works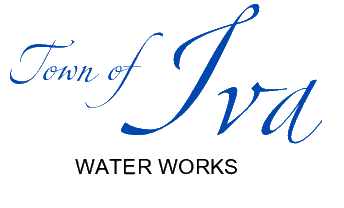 The Town of Iva is an exciting and fast growing community. We are proud to employ many local citizens and offer future opportunities as openings become available. We support employees and management as they strive to provide outstanding services to our citizens in a manner that is productive, efficient, and as cost-effective as possible.
Consider joining a challenging and rewarding workplace where our focus is providing service to citizens by utilizing a team-based work atmosphere.
Frequently Asked Questions
How could I have used this much water?
You may not have - the numbers on your meter may have been transposed or hard to read. You could possibly have a leaky toilet or faucet that's difficult to detect. Just call the office and we'll work with you to solve the problem.
My bill is past due can I get an extension?
Please contact our office to discuss receiving an extension.
What do I do if I am experiencing low pressure?
Check your meter and the surrounding area for possible leaks. Next, call our office and report low pressure for your area.
Why do I have a previous balance when I know I sent in my payment?
We may have received it after the due date or we may not have received it at all. Call our office and we will help you solve the problem.
Why is my water discolored?
A repair could have been completed recently allowing air to enter the line, causing the milky look.
Relevant Documents